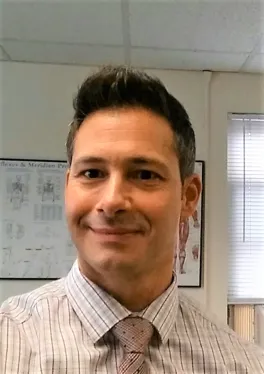 Dr. Louis Castaldi is a Holistic Chiropractor, Certified Applied Kinesiologist and an ACT, Advanced Clinical Training graduate of Nutrition Response Testing™ (NRT), the highest level of training offered in the science and application of Nutrition Response TestingTM . He has been in practice since 1998. He graduated from Fordham University with a B. S. in General Science in 1994 and went on to the University of Bridgeport Chiropractic College in Connecticut where he received his Doctor of Chiropractic degree.
Shortly after graduating, Dr. Castaldi became certified in Applied Kinesiology and an instructor for the 100 hr. Applied Kinesiology course taught in Manhattan by Dr. Eugene Charles.
In 2005, Dr. Castaldi was diagnosed with Irritable Bowel Syndrome or IBS. He had suffered from IBS symptoms since he was a child. In his early 30's he attended a Nutrition Response Testing workshop taught by Dr. Freddie Ulan. Nutrition Response Testing is an advanced form of Applied Kinesiology that allows the doctor to hone in on the underlying causes of most health problems and what specific supplements and dietary advice are needed to improve them. Dr. Castaldi volunteered to be tested by Dr. Ulan and did not tell him about his digestive problems. Using Nutrition Response Testing Dr. Ulan was able to determine that he had digestive problems, what the underlying causes of his IBS symptoms were and specifically what supplements and dietary changes he needed to make in order to fix a lifelong of suffering from this debilitating condition. Within two days of taking the supplements and reducing dairy and sugar, Dr. Castaldi reports that for the first time in years he did not have the urgency to run to the bathroom in the middle of eating a meal. Because of his own healing response Dr. Castaldi was amazed how this type of testing could find out what was wrong and what supplements would work! This revelation is what propelled Dr. Castaldi to help people in the very same way.
Over the 20 years that Dr. Castaldi has been in practice he has never stopped learning new and better ways of achieving results for his clients with a wide variety of health problems. In addition to chronic or acute pain and inflammation he has had great success with patients who suffer from Autoimmune Diseases, Lyme Disease, Fibromyalgia, Glaucoma, Gastrointestinal Conditions including Chron's, IBS and Constipation, Hormone Imbalances, Allergies, Asthma, Headaches, Anxiety and Insomnia to name a few!
Dr. Castaldi combines the power of Nutrition Response Testing with Chiropractic adjustments and various Applied Kinesiology treatment procedures to restore his patients' health and well-being. If you are looking for a natural, holistic doctor, you've come to the right place!

<!-- Professional verification provided by Healthprofs.com -->


<!-- End Verification -->